María Palacios, Sins Invalid "REAADI and DRMA Will Mean the Difference Between Life and Death"
María R. Palacios is a poet, writer, author, activist, and artist whose voice echoes the oppression and survival of disabled people of color.
When she spoke at the Real Emergency Access for Aging and Disability Inclusion (REAADI) Act and the Disaster Relief Medicaid Act (DRMA) Congressional Briefing held on March 30, 2022, María called for individual, organizational, and Congressional support for REAADI & DRMA.
Joining a distinguished guest roster, María remarks shone a light on great inequity in our society. "When disasters strike," she said, "the lives of Disabled people face greater dangers and bigger obstacles... those who are viewed as broken are the ones society leaves behind. Disabled people, but especially Brown and Indigenous Disabled people, are always the first ones to be discarded, abandoned and left to die."
Her message was that passing both of these pieces of legislation would give people with disabilities and older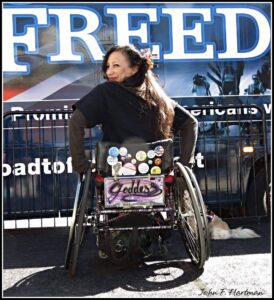 adults a seat at the table during disaster planning, response, and recovery. She said, "Please understand that as important and as crucial as this proposed legislation is, we are not asking for anything extra. We are not asking for anything special. Disability rights are always human rights, and there is no justice without disability justice."
She ended with: "Nobody left behind. Nobody left behind. Nobody left behind."
These two historic pieces of disability and disaster legislation ensure people with disabilities and older adults are included throughout emergency management. They will dismantle barriers faced by disaster survivors, including people with disabilities, older adults, people with access and functional needs, and other Medicaid-eligible people impacted by disasters; improve outcomes; and increase disaster resources for disability organizations, emergency managers and local communities.­
Learn more about REAADI and DRMA at reaadi.com.
María gave a moving speech at our Congressional Briefing; check out her speech above!
More About María Palacios
María was born in Latin America and had polio as an infant. She was brought to the United States as a teenager, and her exposure to ADAPT and the Independent Living movement shaped her view of herself as a disabled person. Her involvement with the advocacy that passed the ADA takes María back to the now iconic Capitol Crawl March.
She has been a voice for the rights of disabled women, disabled immigrants and parents with disabilities. María's work on ableism and multi-cultural representation of artistic advocacy is used across the nation by colleges and other educational institutions. María is the author of several publications relating her personal experience as a disabled woman of color existing in an ableist world. María currently works for Sins Invalid, a disability justice, performance project and movement building organization for whom María has been performing since 2007. She is, right now, Sins Invalid's Spanish Language Outreach Coordinator. Learn more about Sins Invalid (click here).
In the artistic world, María R. Palacios is known as the "Goddess on Wheels."
Her appeal today: "REAADI and DRMA means we will have disabled people sitting at the decision-making table; for many, it will mean the difference between life and death."