Meet Congressman Jim Langevin, Disability and Disaster Champion
Representative Jim Langevin (D-RI), Disabled Congressman, Champion of Disability Equity establishing a legacy of Inclusive Emergency Management.
Joining a distinguished guest roster, Congressman Langevin commended The Partnership for our work over the last few years in "making people with disabilities and older adults a forethought rather than an afterthought in disaster management." Then he got serious and said he needed to make something perfectly clear. "Supporting people with disabilities and older adults before, during, and after disasters should not fall onto organizations like The Partnership. This is the government's responsibility, primarily."
Representative Langevin pointed out that passing REAADI and DRMA would give people with disabilities and older adults a seat at the table during disaster planning. He went on to emphasize that "without intervention, more people with disabilities and older adults suffer unnecessarily when disasters strike." The risk of institutionalization for some is great. "The status quo is unacceptable," he said.
It's all about creating a more open and inclusive society.
Watch his full remarks above!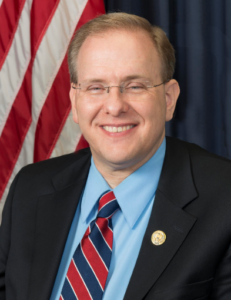 On June 11, 2018, in the 116th Congress, Representative Langevin joined forces with The Partnership, and with Senator Bob Casey (D-PA) and Congressman Smith (R-NJ), to introduce the REAADI (Real Emergency Access for Aging and Disability Inclusion) for Disasters Act (S. 1755 / H.R. 3208), and again in the 117th Congress (2021-22). Congressman Langevin has also been an original cosponsor of DRMA (S. 1754 / H.R. 3215), which was reintroduced in the 117th Congress by Congressman Panetta (D-CA) and Senator Casey.
These two historic pieces of disability and disaster legislation ensure people with disabilities and older adults are included throughout emergency management. They will dismantle barriers faced by disaster survivors, including children with disabilities, disabled people, older adults, people with access and functional needs, and other Medicaid-eligible people impacted by disasters; improve outcomes; and increase disaster resources for disability organizations, emergency managers and local communities.­
Learn more about REAADI and DRMA at reaadi.com.
More About Jim Langevin
Representative Langevin entered public service in 1994, in his home state of Rhode Island, becoming the nation's youngest Secretary of State. His leadership resulted in reforms to Rhode Island's outdated election system and a landmark report documenting widespread violations of the state's Open Meetings Law. He served in that role until winning election to Congress in 2000, as Representative for the 2nd Congressional District of Rhode Island.
Born April 22, 1964, Jim Langevin is the first quadriplegic to serve in the U.S. House of Representatives. At the age of 16, Langevin was injured while working with the Warwick Police Department in the Boy Scout Explorer program. A gun accidentally discharged and a bullet struck Langevin, leaving him paralyzed. The tremendous outpouring of support from his community inspired Langevin to give something back and enter public service.
Congressman Langevin graduated from Rhode Island College and earned a Master's Degree in Public Administration from the Kennedy School of Government at Harvard University. He resides in Warwick, Rhode Island.
His appeal for our country is: let's get REAADI and DRMA to the President's desk ASAP.