Urgent: Florida & Maui Need Your Help NOW
As Hurricane Idalia churns through the Gulf, communities in Florida face impending danger for the second time in less than a year. At the same time, our work continues with those still recovering from wildfires on Maui. In this dual crisis, we need your help to make sure response and recovery is equitable for all.
Hurricane Idalia: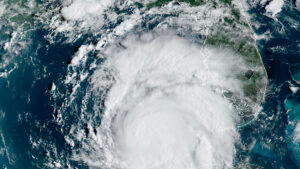 Hurricane Idalia is racing towards Florida, potentially bringing over 10 feet of storm surge and high winds to a large swath of the state. As always, we are in communication and collaboration with the Florida Independent Living (IL) Network as their communities prepare for Idalia's impact. Will you help us advocate for each other? Donating, advocating, and amplifying every voice is crucial to response and recovery. To our friends, family, and colleagues in Idalia's path, please pay attention to your alerts and warnings, and follow official guidance and safety recommendations from your local emergency management agency. 
Maui Update: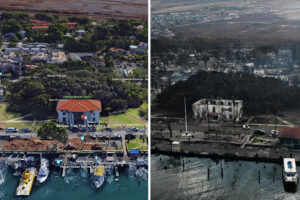 Our collaborative work with Aloha Independent Living Hawai'i and the Maui Disability Task Force continues. We're successfully meeting needs as identified by the Maui Disability Task Force, and strengthening their capacity to continue the response. Your support has already made an impact. Together, we can ensure timely aid for people with disabilities becomes the norm, not the exception. The networks we are co-creating on Maui can help set the standard for equitable and inclusive response.
The Partnership is a promise to our community that we will support each other, learn from our previous work, and share information and resources freely. We are committed to the disability community in these times of climate chaos.
How You Can Help
Amplify: Share our work with your family and friends using the buttons below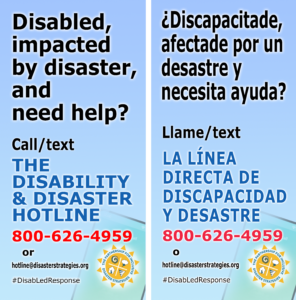 Our
Disability & Disaster Hotline
connects disabled disaster survivors and their loved ones with information, resources, and assistance throughout disasters and emergencies. 
Call / Text: 800-626-4959
Email: Hotline@disasterstrategies.org