On the heels of Hurricane Ian: we are mobilizing for Nicole
The Partnership's actual organization may be a small staff — but with your support and the cooperation of key Partners — our team coordinates partnerships with Centers for Independent Living, disability-led organizations with emergency management, humanitarian actors, and Federal agencies nationwide.
When Ian struck, The Partnership for Inclusive Disaster Strategies mobilized their pool of staff and Operators who staff the Disability & Disaster Hotline; and the calls began. Just as those who were caught in the midst of the disaster in Florida got no rest for days, The Partnership staff did the same, working tirelessly to arrange evacuations and mobilize boots and wheels on-the-ground in the area. The dedication is real.
And now, as we prepare for Hurricane Nicole, we are asking for your help.
Stories from Ian
Six weeks ago, Ian made landfall. In preparation for Ian and during and after the hurricane, we collaborated daily with our partners at the Florida Independent Living Council (FILC) and the Florida Centers for Independent Living (CILs) to get aid to where it was most needed. Our work was spread throughout Florida, from Fort Myers and Sarasota in the Gulf Coast, to Daytona Beach in Volusia County on the Atlantic coast. 
Several individuals with disabilities in a trailer park community in New Smyrna Beach, in Volusia County, needed assistance to evacuate to shelters. One person was sleeping in her van with her Deaf husband for a week outside her flooded apartment; she had oxygen needs and was running out of oxygen. No one had power. We mobilized our network of partners to evacuate individuals to accessible shelters, and to meet their oxygen and medication needs.
One of the women had to sit and sleep in her wheelchair day and night for 10 nights, and developed severe edema in her legs. The Partnership was able to assist in the delivery of an appropriate bed for her, provided by the American Red Cross.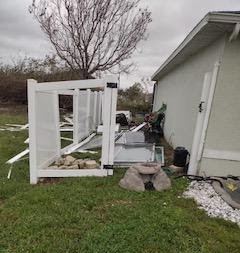 In Fort Myers, The Partnership and our Florida CIL Partners successfully intervened when a woman in her 60s, who is disabled and uses a walker, was discharged from the hospital after injuries during the storm. She was sent back to her home, which was in shambles. The house had no power, and she struggled to navigate her walker over the debris on her floors. She was unable to get to her bathroom, and unfortunately had to establish a makeshift toilet area on the floor in another room.
When a volunteer responder with The Resilience Resource contacted our Hotline on her behalf, in the midst of the storm, a state worker was going to send her to an assisted living facility. In cooperation with our Florida partners, the person was able to relocate to a hotel with ongoing supports. The added bonus was that the hotel was near the hospital where her husband remained due to injuries he sustained during Ian.
Still reeling from Ian, people with disabilities now face Nicole.
The Partnership clocked over 200 hours with Ian, supporting more than 100 disabled people and their families as they navigated complex services necessary to maintain or restore their independence. We provided technical support to FEMA, American Red Cross, and state emergency management, alongside the Independent Living community.
The work of our hotline on behalf of a Deaf man, and our partnership with the Center for Independent Living Gulf Coast, were featured after Ian in this AccuWeather report (click here to watch).
WE ARE READY.
The Partnership is now listed with FEMA under "Resources to Jumpstart Floridians' Recovery"
on the FEMA website (click here)
We anticipate a new wave of calls as Nicole hits.
We are here for you. We prioritize the needs of Disabled people. You are not forgotten, and will not be left behind.
And the calls continue to come in.
We get little sleep, but with your support, together we save lives, and the crises alleviated make our work worth it every day.