Hurricane Ida Alert
As Hurricane Ida makes landfall as a Category 4 hurricane in Louisiana, our Disability and Disaster Hotline is responding to disaster-impacted disabled people and connecting them to resources on the ground before, during, and after Hurricane Ida. 
Disability and Disaster Hotline:
(800) 626-4959 or info@disasterstrategies.org
Due to the inability to launch a mandatory and accessible evacuation, people with disabilities in New Orleans and surrounding areas in the cone of uncertainty found themselves once again in a similar situation as they did 16 years ago when trying to evacuate in Hurricane Katrina.
For 24 hours before Hurricane Ida made landfall today, disabled survivors of Hurricane Katrina have been seeking our help to evacuate because the evacuation process for people with disabilities was no better than it was 16 years ago. Fortunately, tragedy was adverted for at least one family at this time. In collaboration with the American Red Cross, the Department of Homeland Security's Office of Civil Rights and Civil Liberties, and personal connections, the evacuation of a family who live at the edge of Lake Pontchartrain succeeded just moments before Hurricane Ida made landfall.
Without the village of organizations, entities, and individuals that it took to get this one family to safety, this evacuation would not have been successful. This cannot continue as disasters keep increasing in frequency and intensity.
In anticipation of what is sure to follow, we are in direct communication with the New Orleans Public Health Department and the New Orleans Voluntary Organizations Active in Disasters (VOAD) as well as our disability community stakeholders such as the Centers for Independent Living in Hurricane Ida's path and our relief partners, Trach Mommas of Louisiana. 
The Disability & Disaster Hotline provides information, referrals, guidance, technical assistance and resources to people with disabilities, their families, allies, organizations assisting disaster impacted individuals with disabilities and others seeking assistance with immediate and urgent disaster-related needs.
We can provide accessible and multilingual information to callers, including via videophone for Deaf callers, upon request to info@disasterstrategies.org.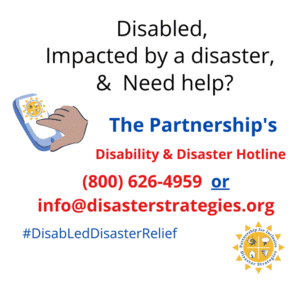 On this 16th anniversary of Hurricane Katrina's landfall, we remember Benny, a disabled woman who was left behind during Katrina and did not survive. 
It is important to keep in mind that individual preparedness can only go far in these broken and inaccessible systems that do not include disabled people with lived experience in the systems planning, mitigation, relief, and recovery.
As Hurricane Ida makes landfall in Louisiana while we are still in the midst of this devastating pandemic, and during Louisiana's recovery from last year's record-breaking storm season that had three Hurricanes and two Tropical Storms making landfall in 2020, We Remember Benny.
Systemic Solution Moving Forward
Join with us in getting the Real Emergency Access for Aging and Disability Inclusion (REAADI) for Disasters Act and the Disaster Relief Medicaid Act (DRMA) passed into law. 
REAADI (H.R. 4938 & S. 2658)
DRMA (H.R. 4937 & S. 2646)
More at www.reaadi.com