BBC Sounds Newshour: Remembering the 'Mother' of US Disability Rights Movement
BBC Sounds Newshour: Remembering the 'Mother' of US Disability Rights Movement
A voice interview published by BBC Sounds Newshour on March 5th, 2023.
Listen to the interview here. Transcript below.
>>Anna Landre: Judy, I think the biggest thing she taught me was to just be unapologetic about being a Disabled woman, about being a wheelchair user, and about the things that it means that I need. She constantly went through the world, not being afraid to ask for things, to make a fuss, telling us to never settle and pushing us when we were nervous to do something and I think that's something a lot of Disabled people grow up with, that fear to enforce your rights, even when you have them. I learned a lot from her and how to do that.
>>Julian Marshall: I think she once said words to the effect of that it's not disability that impedes a Disabled person, but their exclusion. You would go along with that?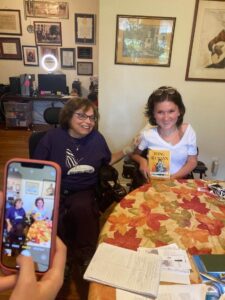 >>Anna: Absolutely, I think the Social Model of Disability is something that was really formative for Judy and her peers in the '60s, '70s, and '80s, you know she was denied access to her school because they said she was a fire hazard, and she was denied the ability to be a teacher because they said she couldn't properly teach and get her students out in the event of an emergency. Decades and decades later, and I, in primary school, was told that I couldn't sit with my friends at the lunch table because my wheelchair was a fire hazard. And so, you have to think about it and think "Was my disability really the problem there or is it the way that we choose to treat Disabled people, the way we see disability in the greater structure of the world?" She's the reason people like me got to go to school, got to go to college, the reason I am able to be at university, able to work, able to enforce my rights when they are not respected. Judy, if you look at her work, is a civil rights icon and never really got the recognition that she probably deserved. And, I think the amount that she contributed to our community is just uncountable, and the only way we can pay her back for that is to keep working and keep fighting because there is still so much left to do.
>>Julian: And what was the turning point for Judy Heumann do you think, what was the prejudice that finally triggered, what was, a lifetime of campaigning for Disabled people?
>>Anna: I think part of it was how her parents raised her. She would always speak really fondly about how when she was denied entry to public school, her mother fought against that, before there was a law, before there was any sort of thought of well this child has rights. Her mother just thought: well, this isn't correct; this isn't how my daughter should be treated. And Judy, I think, grew up with that Jewish sense of justice, of fighting for justice. And then, I know, when she was suing the City of New York to become a teacher, to be able to teach, her story got a lot of attention and the letters and correspondence came flooding in from other Disabled people who saw her story and who said "me too, I face these things too and it means so much to see you fighting." And I think that further radicalized her. That's how it worked with me. You know, you grow up with these things happening to you personally, and then at some point you realize you are part of a much bigger community, and a much bigger fight.
>>Julian: If there's a single memory of Judy Heumann that you would like to hold on to, what is it?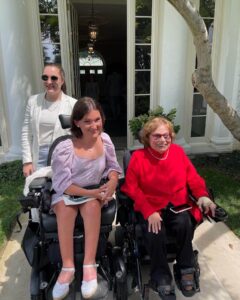 >>Anna: Oh, God, there are so many. When I worked for her, out of her apartment, there was a gym down the road and across the street from her apartment building. And this gym was in a building that used to be wheelchair accessible, and then the gym moved in and they renovated it and they added a step on to the front door. And Judy passed this place almost every day. It enraged her that she fought for the Americans with Disabilities Act and here was this building, like so many others, that was just in clear violation of it. Once a week she would take me and we would go down to the gym, and she would knock on the window because we couldn't get to the door, and she would ask them why didn't they have a ramp. She would say "I want to go to the gym. Maybe I want to go exercise." We would go and fight these people, and I think it's just a really good example of how Judy never stopped fighting, and how from the smallest piece of injustice to the biggest scale of it, she cared. It mattered to her. And she wanted to bring all of us along with her. As people like me, and others, keep fighting for that vision, she'll always be with us. Although, we really, really will miss her.
Memorial Service Honoring the Life of Judy Heumann
The family of Judith "Judy" Heumann invites the community to honor her life
MEMORIAL SERVICE: Wednesday, March 8 at 10 a.m. ET at Adas Israel Congregation, 2850 Quebec St. NW, Washington, DC 20008
BURIAL: Following the service at 12 p.m. at Judean Memorial Gardens located at 16225 Batchellors Forest Rd., Olney, MD 20832. 
SHIVA: Following the burial, the family will be receiving guests at a gathering held at Adas Israel.
LIVESTREAM: The memorial and burial will be live-streamed on Adas Israel's website. Please click here to join the livestream.
ACCESS INFORMATION: American Sign Language interpretation and live captioning will be provided for the in-person and live-stream memorial and burial services. 
ADDITIONAL INFORMATION: At a later time, organizations will be recommended for donations in Judy's memory in lieu of flowers.
BACKGROUND: Judith "Judy" Heumann, widely regarded as "the mother" of the disability rights movement, passed away in Washington, D.C. on the afternoon of March 4, 2023. Judy was at the forefront of major disability rights demonstrations, helped spearhead the passage of disability rights legislation, founded national and international disability advocacy organizations, held senior federal government positions, co-authored her memoir, Being Heumann, and its Young Adult version, Rolling Warrior, and was featured in the Oscar-nominated documentary film, Crip Camp: A Disability Revolution. Read more here.