Juneteenth Briefing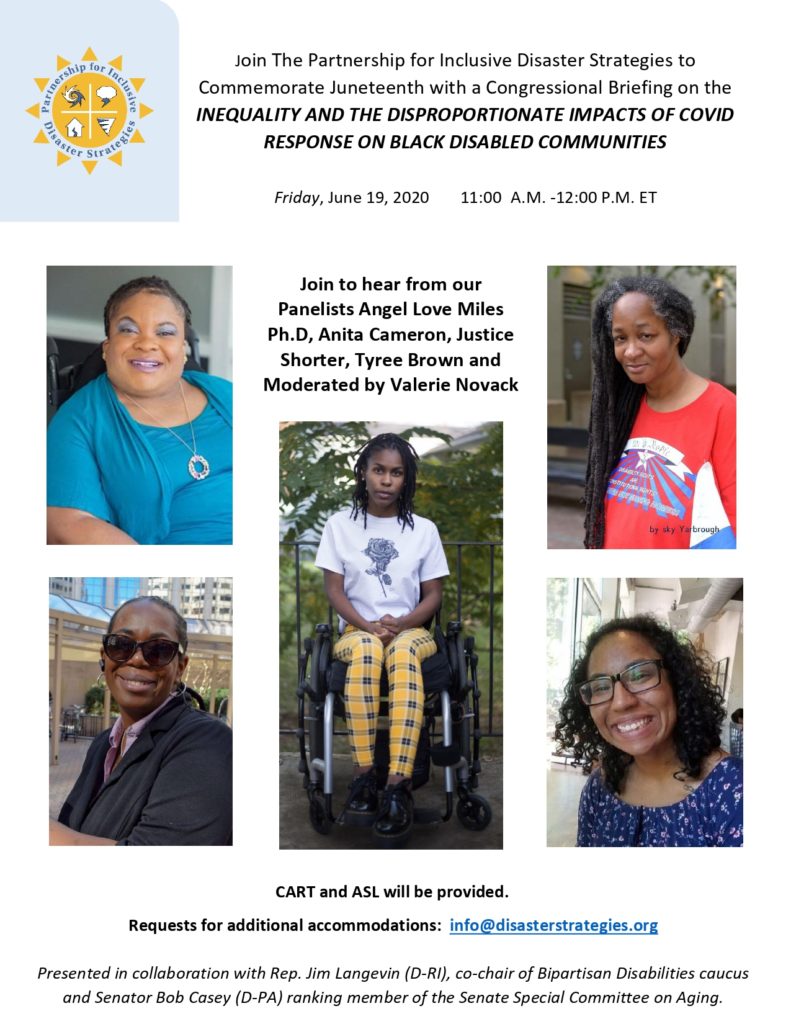 Join The Partnership for Inclusive Disaster Strategies to Commemorate Juneteenth with a Congressional Briefing on the
INEQUALITY AND THE DISPROPORTIONATE IMPACTS OF COVID RESPONSE ON BLACK DISABLED COMMUNITIES 
FRIDAY, JUNE 19, 2020    11:00 A.M. -12:00 P.M.
On June 19, 1865- two years, six months, and eighteen days after the Emancipation Proclamation came into effect- enslaved people in Texas were finally freed. To mark Juneteenth, listen to Black disabled advocates describe how inequality in the United States results in disproportionate impacts during disasters, including COVID-19. Learn about the needs and initiatives to ensure equal access to disaster resources includes Black disabled communities. 
Presenters: 
Valerie Novack – Board President of The Partnership for Inclusive Disaster
                          Strategies and Fellow at Center for American Progress  
Justice Shorter – Disaster Protection Advisor, National Disability Rights Network 
Anita Cameron – Director of Minority Outreach, Not Dead Yet 
Angel Love Miles, Ph.D – Healthcare/Home and Community Based Services    Policy Analyst, Access Living 
Tyree Brown – Recipient, Money Follows the Person 
Presented in collaboration with Rep. Jim Langevin (D-RI), co-chair of the House Bipartisan Disabilities caucus and Senator Bob Casey (D-PA) ranking member of the Senate Special Committee on Aging. 
Requests for additional accommodations: info@disasterstrategies.org