Tornadoes and Extreme Weather Updates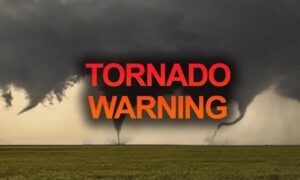 Spring is here, and we are entering a period of heightened risk for extreme weather, including damaging tornadoes, high winds, and hail. These occur most often in the Southwest, Midwest and Southeast areas of the United States, but as we've learned, they can happen anywhere at any time. Just this past week, two tornadoes touched down in Southern California, including one in Los Angeles reported to be the worst the area has seen in over thirty years.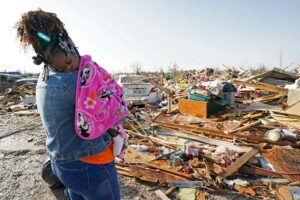 Friday, March 24th's devastating wedge tornado was probably on the ground for 90 minutes after forming on the Mississippi River and exiting north central Louisiana. It plowed across northwestern to north central Mississippi, becoming a strong to violent storm just as it arrived in the town of Rolling Fork and continued through Silver City and Tchula. It strengthened again before crossing through Amory in the northeast corner of the state, and entering northwestern Alabama. The storm left behind catastrophic loss of life and destruction of property. As of 5pm local time, there are 25 confirmed deaths in Mississippi and 1 in Alabama, with many more injured and others still missing.
Meteorologist Bob Henson (@bhensonweather) tweeted, 'A single long-lived, twister-spawning supercell thunderstorm caused the vast bulk of tornadic destruction across Mississippi on Friday night.' Read more in his article at Yale Climate Connections.
The National Weather Service is forecasting Isolated large hail and damaging winds will remain possible across parts of the Florida Panhandle and southern/central Georgia in the early evening. Another round of strong to severe storms should occur early Sunday morning across portions of southern/central Alabama. Earlier forecasts for severe weather in parts of Pennsylvania and New York have been downgraded.
Scattered severe thunderstorms should occur through Sunday night from far east Texas into parts of the lower Mississippi Valley and Southeast. Large hail to very large hail should be the main threat with any supercells. Damaging winds and a few tornadoes also appear possible.
The Partnership is focused on meeting the needs of our disabled community impacted by these and other hazardous events, especially as they happen more frequently.
We need your help to continue our work!
Every donation, no matter the amount helps us to continue serving our Disability Community throughout disasters.
Muchas Gracias | Thank you so much
This kind of extreme weather develops quickly, so it is critically important to be prepared for the disruptions it may cause.
Here are some no-cost, immediate steps you can take to prepare and protect yourself and your family:
Download the FEMA App and/or American Red Cross Emergency! App to sign up to receive emergency alerts for your area.

Sign up to receive emergency notifications from your local emergency management agency, and if possible, monitor their social media accounts.

Contact neighbors, friends and family in advance, especially if they are part of your support network before, during or after a disaster. Confirm your plans and make sure they'll still be available to help.

Check batteries in flashlights, and if you have one, a battery-operated or hand-crank weather radio. Keep these items nearby in case you lose power.

Charge up your devices just in case!

Be ready to take cover in a basement or a windowless area of your home, such as a bathroom, hallway, under stair area, or large closet.

Be sure you and everyone in your household knows where to meet if you are separated. This is also important if your home is damaged and you need to go to a shelter or to friends or family.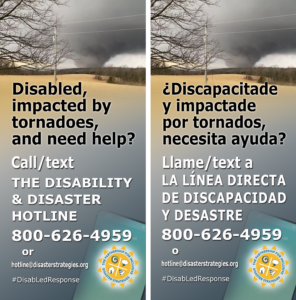 Our
Disability & Disaster Hotline
connects disabled disaster survivors and their loved ones with information, resources, and assistance throughout disasters and emergencies. 
Call / Text: 800-626-4959




Email:

Hotline@disasterstrategies.org