Shaylin & Germán – Bio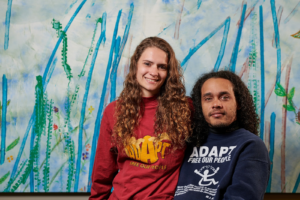 Meet Our Co-Executive Directors:
Shaylin Sluzalis and Germán Parodi 
Shaylin and Germán are not your ordinary Co-Executive Directors. They are leaders together; equally in love with, and dedicated to, disability rights, equal access and independence for all. Shaylin and Germán are disability rights activists by nature, having met at an ADAPT Action and fell in love at first site in 2017. They have been a powerful team ever since, leading in disability rights community organizing, disability-led disaster response, and empowering community resilience and optimizing outcomes for all nationwide and across the world. They are a powerhouse together, partners in crime, in action, and in love. In September 2019, The Partnership's Founding Executive Director, Marcie Roth passed the torch to Shaylin and Germán to continue leading The Partnership - ensuring equal access and full inclusion before, during, and after disasters.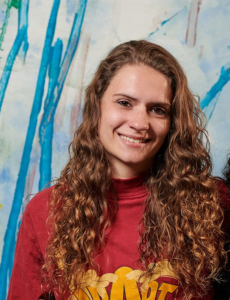 Meet Shaylin Sluzalis - Co-Executive Director:
Shaylin Sluzalis, is one of the nation's youngest Executive Directors and a young leader in disability rights. Shaylin is a native to Pennsylvania and is a life-long disability rights advocate, born and raised by the Independent Living movement. Being raised equally alongside her older sister Brittani who lives with intellectual, developmental, and physical disabilities. Shaylin's path to disability rights advocacy started from inside her home, seeing life through her sister's lense, and advocating for her equal inclusion and opportunities in all aspects of life.
Knowing that Shaylin's life could have been drastically different had her sister been institutionalized at a young age as medical professionals advised her parents. She has dedicated her life advocating to end the institutional bias, and making systems change that allow all people with disabilities to have the right to live in the community with the services and supports needed to live independently- just as her sister Brittani has been able to for the past 25+ years.
Shaylin's disability rights experience also includes her involvement with the Center for Independent Living of North Central Pennsylvania (CILNCP) since she was just five years old. After a childhood of volunteering and growing up at CILNCP, during her years in college she worked at the Center for Independent Living of North Central PA starting as an intern and quickly became the Office Administrator and Independent Monitoring for Quality (IM4Q) Coordinator, and then the Consumer and Public Relations Coordinator before moving to Philadelphia PA in 2018 after graduating with her Bachelor degree in Business Management.
In July 2017, Shaylin co-founded, alongside disability rights leaders, North Central PA ADAPT - a Chapter of a national grass-roots community that organizes disability rights activists to engage in nonviolent direct action, including civil disobedience, to assure the civil and human rights of people with disabilities to live in freedom.
Shaylin became involved with The Partnership in 2017 after being deployed during her Junior year in college as a first responder by Portlight Strategies to Puerto Rico after Hurricane Maria with a disability-led team - advocating for full inclusion and equal access to disaster resources, providing humanitarian aid and durable medical equipment to people with disabilities throughout remote areas of the interior of the island, and empowered the establishment of the Puerto Rico Disability Community Relief Network. More recently deploying to The Bahamas after Hurricane Dorian at the end of 2019 and beginning 2020, during each deployment Shaylin observed and experienced how disability-led disaster relief can truly open doors.
After finishing her Bachelor's Degree in Business Management in May 2018, Shaylin has been working diligently with The Partnership in advocating for and responding to the rights and needs of disaster-impacted people with disabilities, empowering community wide resilience, and optimizing outcomes for all. Shaylin was instrumental in the development of the REAADI for Disasters Act (HR. 3208 and S.1755) and the Disaster Relief Medicaid Act (HR 3215 & S. 1754) - two transformative pieces of federal legislation that prioritizes equal access to disaster resources, and allows Medicaid to "follow the person" during and after federally declared disasters and emergencies.
Shaylin is also active in global disability inclusive disaster risk reduction, humanitarian relief and whole community resilience initiatives through The Partnership and the United Nations Thematic Group on Persons with Disabilities for Disaster Risk Reduction.
Most recently, Shaylin was elected to serve on the Board of Directors for Liberty Resources Center for Independent Living in Philadelphia PA.
Shaylin is a strong disability rights advocate, activist, community organizer, and leader beginning from her backyard, throughout Pennsylvania, and now all the way across the nation and worldwide.
Shaylin enjoys spending her free time with family, friends and her two beloved dogs, Bella and Nellie.
Contact Shaylin - Email: Directors@disasterstrategies.org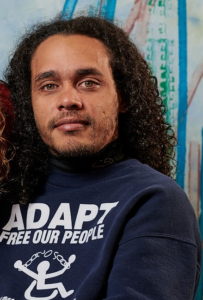 Meet Germán - Co-Executive Director:
Germán Parodi, is originally from Puerto Rico where the seeds of disability inclusive disaster strategies were planted while he was growing up in the 80's and 90's as  hurricanes and disaster preparedness were a way of life. However, after acquiring his spinal cord injury in 2001, disasters took on another dimension and became a factor in his decision to relocate to Philadelphia, PA in 2004.
Germán acquired his spinal cord injury in 2001, being a victim of a carjacking, nearly two weeks after turning 17 years old. Germán, and his grandmother who raised him, moved to Philadelphia in 2004 where long-time disability rights activists with Philly ADAPT and Liberty Resources Center for Independent Living took him in and nurtured him in the grassroots disability rights and independent living movement. Germán's thirst for knowledge also pushed him to pursue degrees in behavioral studies and political sciences. For nearly 15 years now, Germán has devoted his life so that all persons with disabilities have the services, supports, and access to choose how and where to live. Germán is a community organizer, disability rights activist, systems advocate, and a leader in the disability rights movement. He is also the Board President of Disabled In Action of PA, Board Member of Liberty Community Connections, and Board Secretary of Trach Mommas of Louisiana.
Germán's involvement with The Partnership began in September 2017 a few days after Hurricane Maria made landfall in Puerto Rico. Germán, along his life partner Shaylin, received his first phone call from Paul Timmons, Board President of Portlight Strategies and founder of The Partnership asking him, to deploy with a small disabled-led team to Puerto Rico. An initial 10-day deployment became a three week deployment, ensuring people with disabilities and older adults had equal access to emergency and disaster resources, provided humanitarian aid and relief, and empowered disability community resilience before, during, and after disasters. Being notably the first person with a severe spinal cord injury to do first response work after a disaster, Germán's personal experience living with a disability was (and is) an asset, not a liability throughout deployment to provide disaster assistance for people with disabilities.
Germán's dedication to disability rights, independence, and choice kept him wanting to do more with The Partnership after his first deployment in 2017. In the past three years, Germán has become a leading advocate around inclusive disaster preparedness and response throughout the United States and worldwide. Germán played a leading role in crafting and advocating for the Real Emergency Access for Aging and Disability Inclusion (REAADI) for Disasters Act (H.R. 3208 & S. 1755), and the Disaster Relief Medicaid Act (H.R. 3215 & S. 1754) - two vital pieces of federal legislation that, when enacted, reinforce and protect the civil rights of people with disabilities before, during, and after disasters; enable disaster relief funding for nonprofit organizations that currently don't qualify; and, allow "Money to Follow the Person" during a federally declared disaster or emergency.
Germán is also very active in global disability inclusive disaster risk reduction, humanitarian relief and whole community resilience initiatives. Germán holds an advocacy title with the United Nations Disaster Risk Reduction office as Focal Point for Persons with Disabilities in the Américas - advocating for full inclusion of persons with disabilities throughout all phases of disaster and emergency operations, and the Convention on the Rights of Persons with Disabilities through the integrating of the Sendai Framework.
Germán Parodi is an embodiment of the Nothing About Us Without Us philosophy.
Contact Germán - Email: Directors@disasterstrategies.org