Norman Smith – Bio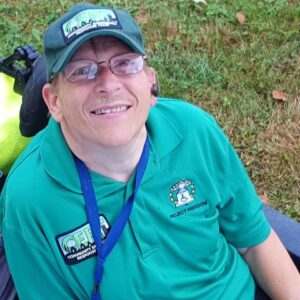 Norman Smith (he/him)
Board Member
Norman A. Smith is the co-founder and Associate Executive Director of Project Freedom Inc. He graduated summa cum laude in 1979 from Long Island University, Brooklyn Center, with degrees in Journalism and Political Science. He also has Cerebral Palsy that affects his speech and fine motor skills.
After graduating from Long Island University, Smith returned home to live in his parents home. He soon realized that his desire to be employed and to be an active advocate in the community for people with disabilities was a burden to his parents who were in their mid-60s.
He had the choice of a nursing home, a group home, or his parents' home. Smith decided to create another choice for him and other friends with disabilities who were facing similar choices. Smith joined with Frieda Applegate to co-found Project Freedom Inc. Its primary goal was to develop, construct, and operate affordable, accessible apartments for people with disabilities. Apartments where people with disabilities make the decisions, live as independently as possible with support as needed, and be productive members of society.
Nearly 40 years later, Smith has been involved with the creation of over 650 apartments designed for people with disabilities in five counties in New Jersey representing over $100 million in assets. Today Project Freedom is recognized as a premier developer of fully integrated affordable supported housing.
As an advocate, Smith has worked with the NJ Office of Emergency Management since 1999 in bringing people with disabilities into all phases of the emergency management process. He is recognized in New Jersey as a Subject Matter Expert in preparedness and emergency management.  Smith was a founding member of the Group for Access and Functional Needs in Emergencies and Disasters (NJ GAINED) for the NJ Office of Emergency Management. Smith is also a member of the Mercer County Community Emergency Response Team and co-chairs the Core Advisory Group for Mercer County's OEM.
Smith served for 12 years all together until 2023 as the Chair of the NJ Statewide Independent Living Council, a federally mandated body appointed by the governor that coordinates independent living services in the state. Smith was selected to be a delegate by the National Council on Disabilities' Policy Summit in 20!0 for the celebration of the 20th Anniversary of the ADA. He worked on Emergency Preparedness policy issues as they affect people with disabilities.
During the Summit, Smith attended ceremonies at the White House where he met President Barack Obama. He had previously met George W, Bush in 2003.
Smith has served on the Robbinsville Township (Mercer County, NJ) Emergency Planning Committee and has co-presented at the 2002 NJ Disaster Preparedness Conference's session on Emergency Planning for Special Needs Populations. He has taken "Emergency Program Managers" training, "Emergency Management for Agencies Serving People with Disabilities" training, and "National Incident Management System" training from FEMA. He has also completed "Community Disaster Educator" and "Shelter Simulation" from the American Red Cross. Smith has written numerous articles for Able Newspaper including articles on Hurricane Katrina and other emergency preparedness topics concerning people with disabilities. In addition, he was a presenter at a 2008 FEMA Region II Conference.
Smith is married to Shirley, and they have a teenaged son, Joshua. Smith's hobbies are playing chess and backgammon online, reading, baseball, watching national politics, and listening to FDNY runs through the internet.