Millie Gonzalez – Bio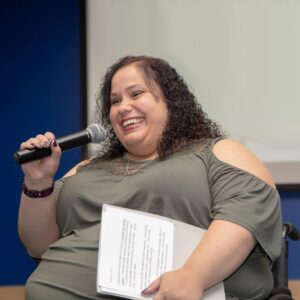 Milagros "Millie" Gonzalez, M.A., Ms. Wheelchair New Jersey 2019, is the board chair for the Spina Bifida Resource Network (SBRN) and vice board chair for the Alliance Center for Independence (ACI). Millie is a communication strategist, writer, editor, and event planner with nearly 20 years of experience. She was on the steering committee that established ACI's annual NJ Disability Pride Parade & Celebration in 2011 and has served as the co-emcee of the event nearly every year since its inception. A disabled advocate, Millie established, organizes and facilitates SBRN's annual Empowerment Retreat for Adults with Disabilities and their new Virtual Empowerment Series. A certified peer mentor with United Spinal Association and member of the ADA Trainer Leadership Network, she has presented on a wide range of disability-related topics, including accessibility, emergency management, advocacy, and job readiness, to a variety of audiences. Millie is the lead organizer of the ReelAbilities: NJ Disabilities Film Festival at Kean University, which features disabled artists and speakers alongside award-winning international films by, about, and/or featuring people with disabilities. She is a member of ZCO/Dance Project and Shimmy Sisters has studied with AXIS and Full Radius and has performed with the physically integrated Heidi Latsky Dance Company. Millie was nominated to Diversability's D-30 Disability Impact List.
I look forward to continued and future opportunities to collaborate with and/or work alongside The Partnership and its leadership to preserve the rights and protect the lives of people with disabilities before, during, and after disasters and emergencies.